This is a reblog from Truth for Life, and the original post can be found at this link:
http://blog.truthforlife.org/things-not-seen-by-jon-bloom?utm_content=40428982&utm_medium=social&utm_source=facebook
BLOG "THINGS NOT SEEN" BY JON BLOOM
October 15, 2016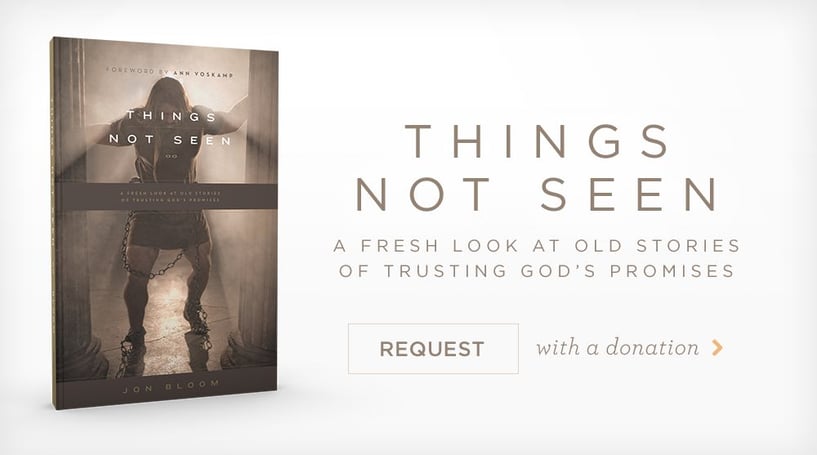 In the depths of suffering, it's easy for faith to waver. Questions rise repeatedly to the surface, such as, "Why does God allow this to continue? Why are my prayers left unanswered? How long will this go on?"
When troubles come, we're not alone in wondering if God has forsaken us.
In Things Not Seen: A Fresh Look at Old Stories of Trusting God's Promises, author Jon Bloom retells 35 Bible stories—from Abraham to John the Baptist—that reassure us that God is always present and His most profound work is accomplished through trials.
If you, or a loved one, are struggling to see past the storm, Things Not Seen offers a wealth of hope and encouragement to persevere.
"For this light momentary affliction is preparing for us an eternal weight of glory beyond all comparison…" (2 Cor. 4:17)
Available in softcover or e-book.
If you're a Truthpartner, click here to request the resource or call Customer Service at 1.888.588.7884.
From Truth for Life, http://blog.truthforlife.org/
ABOUT Truth for Life
About
On February 27, 1995, Truth For Life began airing its 25-minute daily program on seven radio stations. Today, Truth For Life can now be heard in every major radio market across the U.S., and also in select Canadian markets, through 1,655 radio outlets.
The unique, expositional teaching of Alistair Begg is now internationally known as an inspiring source for clear, relevant instruction rooted firmly in the Scripture. Studying God's Word each day, verse by verse, is the hallmark of this ministry.
Passionate about seeing unbelievers converted, believers established, and local churches strengthened, Truth For Life faithfully looks to God to proclaim His Truth through the program and to transform the lives of those who listen through His Spirit.
In 2009, driven by the desire to share the good news of the Gospel without cost as a barrier, the ministry made the entire Truth For Life teaching archive free for download at truthforlife.org. Since then, over 55 million messages have been downloaded.
Because of this encouraging response, Truth For Life made all of its CDs, DVDs, and books by Alistair Begg and other featured authors available at cost—with no markup—in 2011 and now routinely distributes over 10,000 resources each month.
In addition, people all around the world can now access the teaching of Alistair Begg through two convenient mobile apps, on podcast, and even streaming television. Truth For Life also connects with listeners at live ministry events and conferences across the US and Canada in cities where the radio program is heard.
Led by Alistair Begg and overseen by an independent, volunteer board of trustees, Truth For Life is a Bible-teaching ministry seeking to faithfully proclaim the Word of God and is committed to highest level of financial stewardship. Over 95% of donated funds go directly to ministry expenses.